HGV (Heavy goods vehicles)
CIAK TRUCK PROFI batteries are specially designed for the most extreme road vehicles that, besides transporting maximum weight for moving on public roads, are frequently the only home to drivers. CIAK TRUCK PROFI is technologically designed for deep discharge of up to 80% of the overall capacity what makes it the unique product in the offer for this type of vehicles. Large use of top consumers does not present any problem for CIAK TRUCK PROFI batteries even at the increased stopping period. The biggest advantage of this battery is in the number of recharging cycles which are 3 times higher than in standard technology. Also, it is the only battery which to its users offers up to 30% bigger usability of the rated capacity. CIAK TRUCK PROFI offers exceptional starting power, as well as durability necessary for long driving and frequent use of consumers, when the vehicle is without ignition aggregate.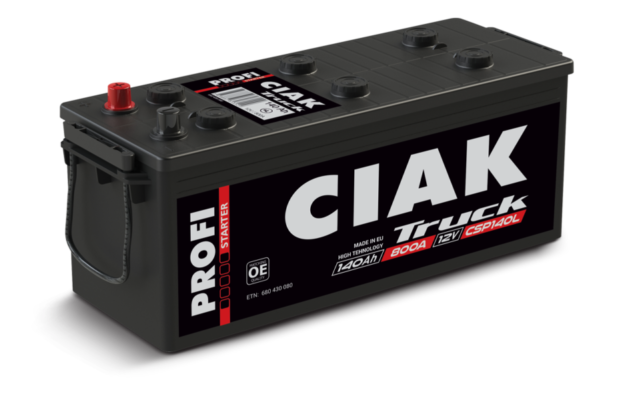 Delivery vehicles
Vehicles that are frequently stopping and starting need extremely reliable battery. Demanding users have recognised CIAK TRUCK battery and it is proven to enable reliable charging during the whole life cycle, less blockages of performance and also less unsatisfied users of their services. Ideal technology installed in CIAK TRUCK batteries is adapted to the significant energy use and frequent short distances and it offers significantly better performances at increased number of charging and discharging cycles from other batteries on the market.
Construction machinery
Construction machinery is exposed to extreme working conditions, unusual environment and performance in the hardest weather conditions. CIAK Truck batteries have high starting voltage, passed tests of performance in extreme conditions, in combination with exceptional resistance. They are specially designed for vibration resistance and with special protection from electrolyte leaking (acid) or with the possibility to perform in times of biggest energy needs. CIAK Truck batteries are completely impermeable to external conditions such as water, dust or some other elements that could permeate inside the battery and that way cause permanent damage.