CIAK TRUCK HEAVY DUTY
Batteries for commercial vehicles, trucks and industrial vehicles are a combination of high durability and exceptionally reliable use efficiency. Heavy duty batteries with technology for subsequent maintenance are ideal for vehicles with lower charging needs and alternative additional energy source. It is ideal for dump trucks, bulldozers, mini busses and tractors. It's tested hybrid technology enables excellent performance with high charging reserves. Its tested quality and key investing in quality improvement and resistance to extreme working conditions (dust, frequent starting and stopping, vibrations) make it ideal choice for this type of vehicles.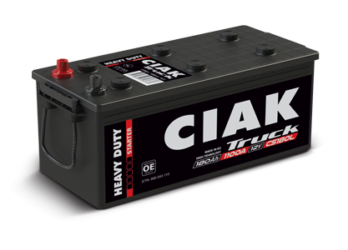 CIAK TRUCK EFB
The EFB battery line is an innovative solution for the most extreme use in commercial vehicles which besides carrying the maximum permissible weights for driving on public roads are often also the only home for drivers. CIAK TRUCK EFB is a battery specially designed for EURO5 and EURO6 generation trucks, which require much more than the starting current itself. The vehicles are equipped with various electronic aids that draw energy from the battery.
Truck EFB battery technology provides excellent cyclic capacity, up to 3x more cycles than conventional batteries and can discharge up to 80% of the rated capacity. Thanks to their technology the batteries are extremely resistant to vibrations, are completely maintenance-free (no need to add distilled water) and are therefore suitable for placement behind the rear axle where they are subjected to extreme vibrations.